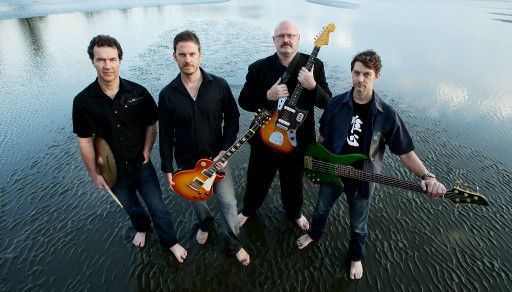 From left to right: Jamie Coyle, Josh Robertson, Shane Robertson and Scott Brady

Toxic Bears are an experimental punk rock band based in Brisbane, Australia. Their music ranges from breakneck hardcore to funk and Latin grooves with a garage rock aesthetic. They write, record and play ritually in their own acoustically engineered studio using recording gear purchased in a chain of secondhand stores in central Japan.

The band has recorded two albums, the 23-song Ruthless Rhymes for Heartless Times (2012) and The Modern Game (2014), which exist only in cyberspace. An EP, Sense of Urgency, Cadet - a title drawn from a friend's experience training as a military officer at Duntroon - is due for completion in mid-2015.
Personnel
Drummer Jamie Coyle, singer/guitarist Shane Robertson and guitarist Josh Robertson first played together in the early 1990s in melodic hardcore band Cage of Joy. Underground American bands of the 1980s, notably Husker Du, Black Flag and the Descendents, were a formative influence. The trio reformed in 2007 as Toxic Bears, giving full voice to a newfound bent for improvisation and invention after their musical diaspora of intervening years.

Jamie gained a formal immersion in music theory at the Queensland Conservatorium of Music and played in jazz ensembles. An ardent fan of Nomeansno, the Dead Kennedys and Frank Zappa, Jamie's eclectic and flamboyant beats and fills are the cornerstone of the Toxic Bears sound. He has been known to write some of the Toxic Bears' catchiest tunes, as well as numerous CCCs (Compositions of Confounding Complexity). His song "Pokerface" was an early revelation for the band, the first known adaptation of the Cuban songo beat by a punk rock band with a segue into Black Flag-like passages. His beats have also been the spark for numerous songs, notably the Jamaican disco of Yakuza Café, the Purdie shuffle interlude of Thai Eyes and the slick funk break and Latin breakdown of Earth, Wind and Fireant.

As frontman, Shane (known to most as Robbo) blends passion with theatricality in a six foot five inch frame, gilded with a handlebar moustache. He once swathed a song about falling in love in Nietzche's aphorism about solitude (Seven Skins). His songs often invoke the conscious simplicity of indie rock with significant and convincing personal emotional content. Conversely, he has written the Toxic Bears song with the most chords: My Escape, a meditation on transcending love and loss that is equal parts Dismemberment Plan and Steely Dan. Shane is also a master of slower power rock songs: Girl 13 recalls Black Sheets of Rain era Bob Mould while King Hit updates Big Black. Shane's first musical departure from Cage of Joy, in which he was lead singer and songwriter, was recording an album with Decipher's Two Dee as the electronic duo Harm in 1999.

Josh has coined a Stooges-meet-Parliament guitar style that reconciles his time making beats and rhymes with hip hop group Decipher in the late 1990s/early 2000s with his later rediscovery of the Ramones and Thin Lizzy while living in Japan. His experiences as a newspaper journalist have been fodder for his songwriting, which often contains observations from real life encounters, from the first female head of MI5 (Spymaster) to outlaw motorcycle club members (Thai Eyes). He flirts dangerously with a Greg Ginn-esque, scale agnostic abandon when playing lead guitar, and is strongly influenced by both the noise guitar and the recording approach of Steven Albini (without the benefit of analog equipment).

Sense of Urgency, Cadet is the first recording to feature bassist Scott Brady, who previously explored Australia's underground music scenes with alternative rock outfits Cipher and Holocene. Scott's dexterity and flourish give him full use of the range of his five-string bass, as well as a seven-string, ultra low voiced guitar christened "Peter Guitarvey".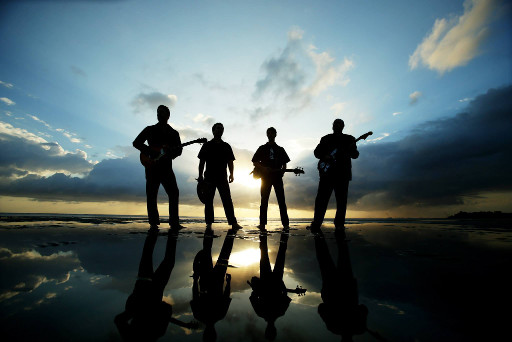 Equipment
The Toxic Bears record live in the same room with only vocal overdubs. The studio is a purpose-built, soundproof, standalone building in Jamie's backyard. The band record using 15 mics simultaneously: 10 on the drum kit (Pearl, timber snare, Turkish cymbals); two on each guitar cabinet (for Josh a Vox AC30 and for Shane a Vox AC15); and the final mic and a direct line on the bass cabinet. All the mics are either large diaphragm condensers (Rode and AKG) or Shure dynamics. They record on 16 tracks using two Korg DAWs synced via MIDI. They dump to computer and mix in ACID before throwing to Scott's home studio and mastering in Pro Tools.
A YouTube Playlist