Past Glories - The Dustbin of History
This is a page for all the old gigs for Toxic Bears; the ones below are for 2016 and 2017. More will be added as they occur.
Saturday 2nd September 2017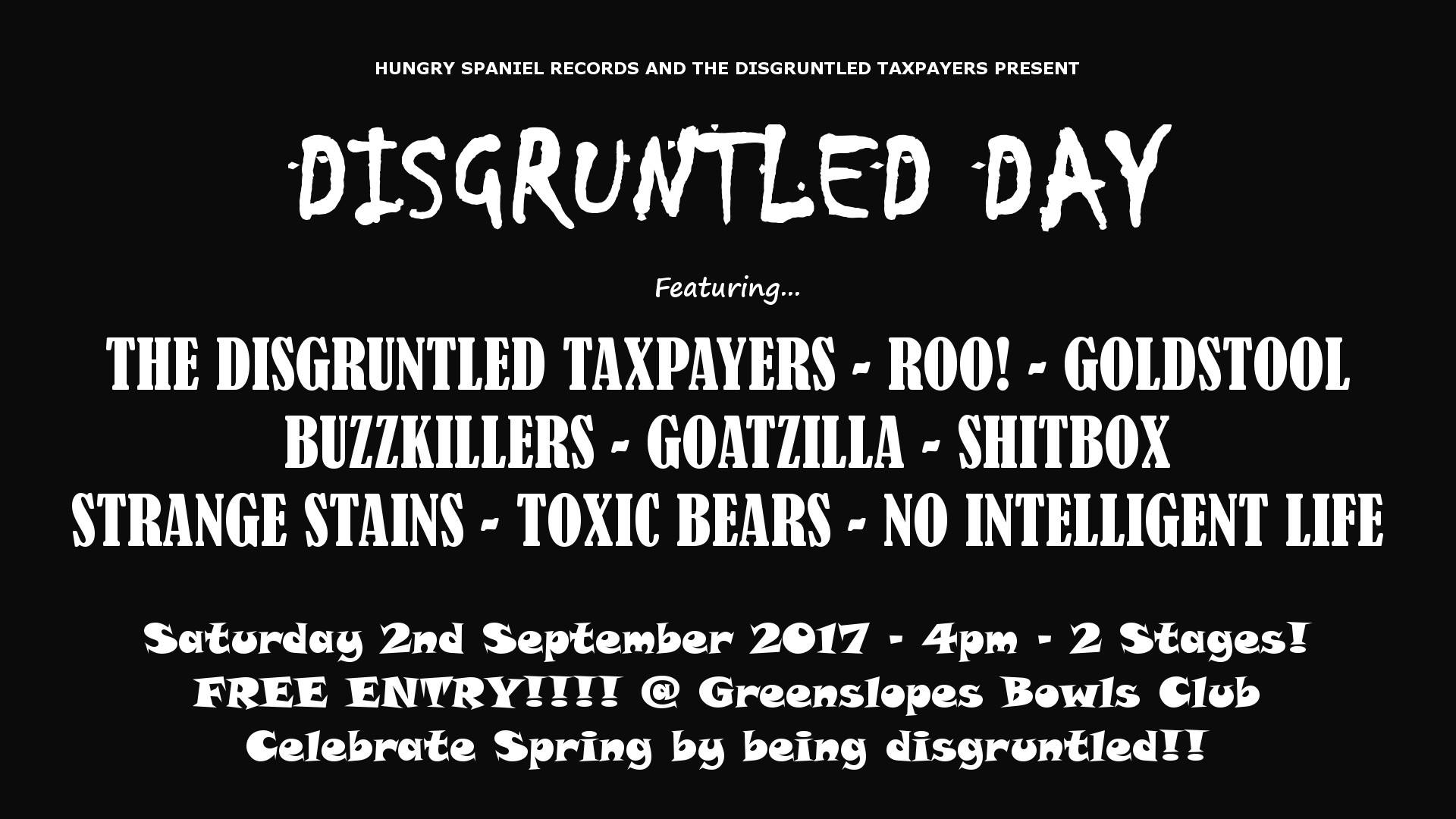 Come and celebrate spring by being disgruntled! A free event playing over two stages! Kid friendly!
Greenslopes Bowling Club, 131 Ridge Street, Greenslopes, Queensland, Australia 4120. 16:00 till 23:00. Free Entry!
Saturday 1st April 2017

"The Dreamkillers are proud to announce this huge perfomance of a night of hard rocking music all starting off with The Toxic Bears and then our buddies in crime Brisbane's popular mutant punk rock band Goatzilla, followed by The Dreamkillers with a huge welcome back to 2017.

Dreamkiller raffles / Dreamkiller door prizes and a Dreamkiller auction and the merch will be available also Tee's CD's, Stickers and great deal packages will be made available."
Queensport Tavern, 49 Gosport Street, Hemmant, Queensland, Australia 4174. 18:00 till 22:30. $15 entry.
Saturday 11th February 2017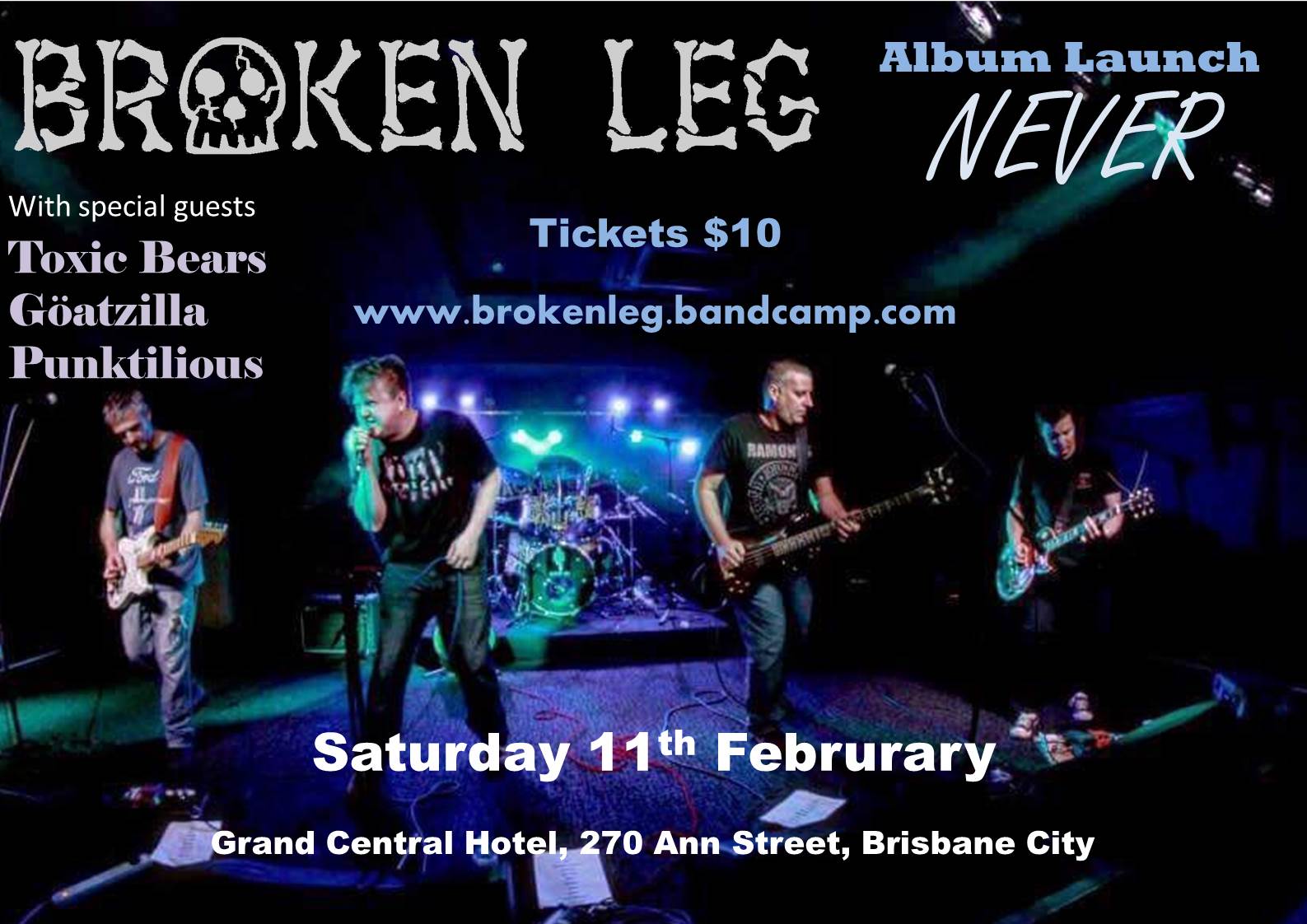 Broken Leg are launching their new album - "Never" (available for purchase on Bandcamp). Support acts are:
Toxic Bears
Göatzilla!
Punktilious
Grand Central Hotel, 270 Ann Street, Brisbane, 4000. $10 entry.
Every ticket will be in the running to win a two day recording package at Sonic Studios, a Broken Leg logo T-shirt or your very own copy of the album "Never".
Saturday 19th November 2016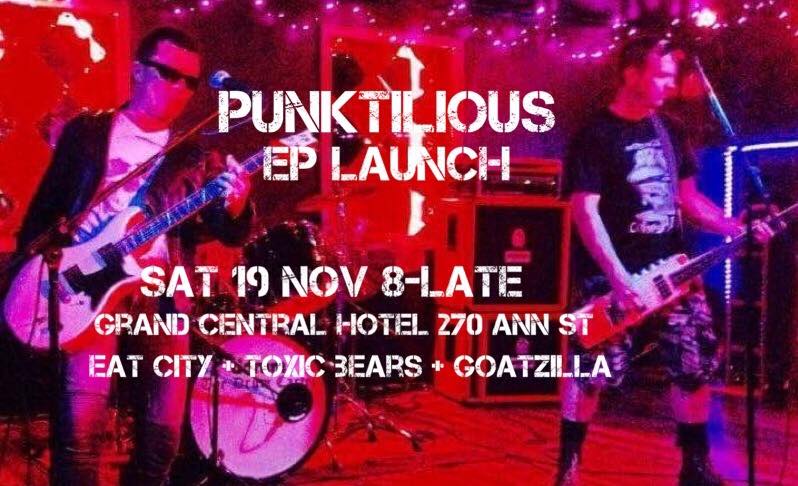 Punktilious are launching their new EP - "An Apple A Day" (available for purchase on Bandcamp). Support acts are:
Eat City
Toxic Bears
Goatzilla!
Grant Central Hotel, 270 Ann Street, Brsbane, 4000. $10 entry or $8 presales. Skate deck giveaway by Holiday Skateboards.
Saturday 27th August 2016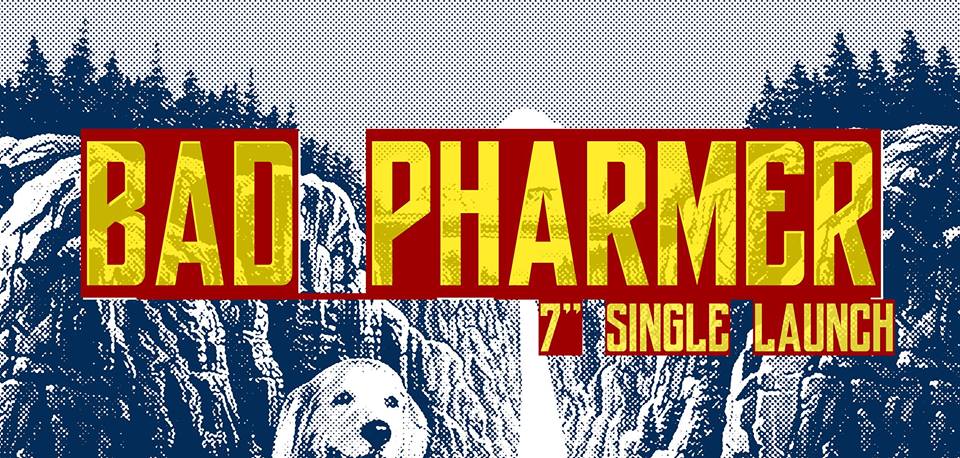 Bad Pharmer are in town to launch their brand new single "The Seeker". Featuring a whole shipload of support acts such as:
New Globe Theatre
220 Brunswick Street, Fortitude Valley, 4006
$12 entry, $10 presales, $8 4zzz subscribers
18+ [Bring I.D]; 7pm entry; 7:30 start
Let's Go! Punk Show
Saturday 20th August 2016
The Disgruntled Tax Payers
Broken Leg
Bazooka Fist
Dangerous Folk
Myrtle Place
Goatzilla
Plan of Attack
The Knock Backs
The Toxic Bears
The Back Room Brisbane, 688 Ipswich Road, Annerley, Brisbane Australia 4103, $15 Entry, 1pm - 2am
Johnny Brown's Bad Ass Bands
Saturday 30th April 2016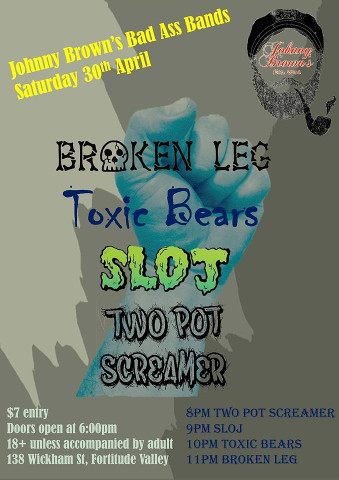 8PM: Two Pot Screamer
9PM: SLOJ
10PM: Toxic Bears
11PM: Broken Leg
Johnny Brown's
138 Wickham Street, Fortitude Valley
$7 Entry
Doors open at 6:00pm
18+ unless accompanied by adult
The First Annual Dickweed of the Year Awards
Saturday 7th May 2016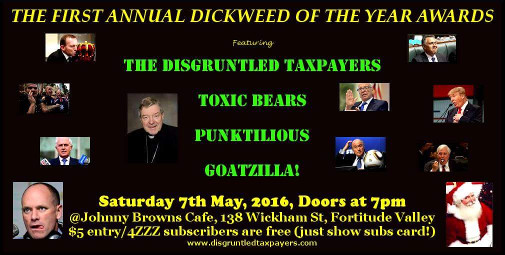 Toxic Bears
Punktilious
Goatzilla!
Johnny Brown's
138 Wickham Street, Fortitude Valley
$5 Entry (Free to 4ZZZ subscribers)
Doors open at 7:00pm
From beyond...
Saturday 16th January 2016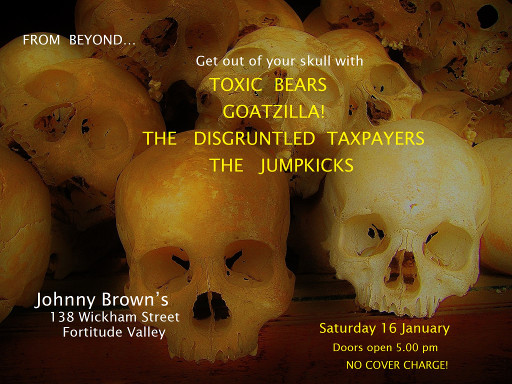 Get out of your skull with
Toxic Bears
Goatzilla!
The Disgruntled Taxpayers
The Jumpkicks
Johnny Brown's 138 Wickham Street, Fortitude Valley
Doors open at 5:00pm
No cover charge!